Pola Dwurnik - MEET THE ARTIST
Vernissage: Friday, 18 May, 2018, 6 pm.
__________________________________________________________________________
As suggested by the title, the leitmotif of Pola Dwurnik's exhibition is the artist herself; not only as a painter, but also as the central figure of her numerous works. The exhbition will provide an opportunity to get acquainted with the variety media the artist uses, including oil painting, drawing, collage, comic, installation and music video.
Pola Dwurnik is best known for her self-portraits modelled on the traditional representations of Queen Elizabeth I whose unique, complex symbolism and sophisticated, decorative forms have fascinated the artist for years. In addition to this series of paintings and gouaches, the exhibition will also feature other self-portraits, including oil paintings on canvas, quick sketches on paper from the Instagram Self-Portrait Series and ironic self-representations as a Knavish Dragon of Berlin. Complementing the self-portrait series are two cartoons telling stories about unexpected meetings with the visual artist Wojciech Bąkowski and the poet Marcin Świetlicki. The latter story will have its world premiere in Bielsko-Biała. The exhibition will also feature videos by the band Cosmic Parrot - the artist's musical project, including the recognizable animation Doctor which draws on Pink Floyd's Another Brick In The Wall and the hip-hop self-affirmative Ama Painter which was shot in Australia. The show will be further enhanced by the artist's outfit - a court dress with motifs from her paintings which was originally used during a performance in 2013. Most of the works at the Meet the Artist exhibition will be shown for the first time.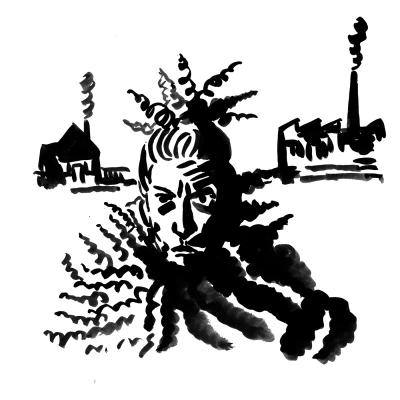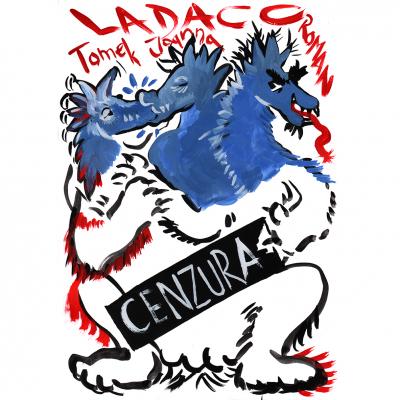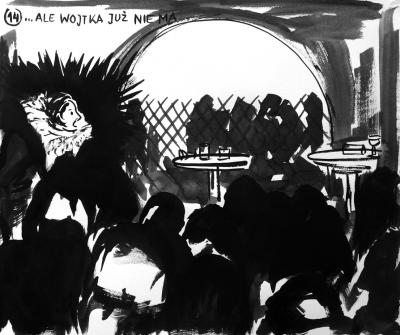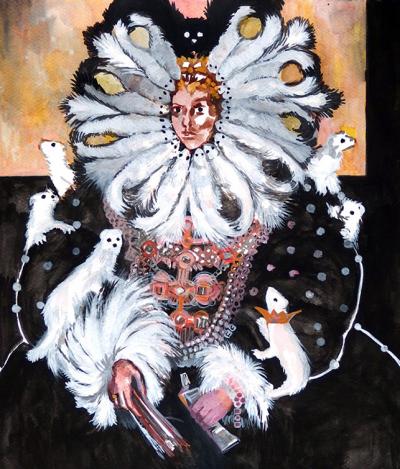 Born in 1979, Pola Dwurnik learned painting and drawing in the studios of her parents: Edward Dwurnik and Teresa Gierzyńska.
She studied art history at the University of Warsaw from1998 to 2003. During this period, she became a co-founder and editor-in-chief of the art magazine Sekcja. She also ran Galeria Zakręt Gallery where many accomplished Polish artists had their debut exhibitions. In 2004-2005 she was a resident artist at theStiftung Laurenz Haus in Basel, Switzerland. In 2008, she was a finalist at the Henkel Art Award for Contemporary Drawing in Vienna and in 2010 she was a resident artist at the mobile art platform The Knot in Berlin, Warsaw and Bucharest.
She is the author of four books with drawings: Świetlica [Common Room] (2003, Galeria Raster), Living in Basel (2007, Christoph Merian Verlag), Kronika Towarzyska [Gossip Column] (2008, Centre for Contemporary Art Ujazdowski Castle) and Piosenki dla Wojtka [Songs for Wojtek]. In 2013, she released Girl on Canvas. Dziewczyna na płótnie - an art book devoted to painting and its reception, which she wrote in cooperation with more than thirty fellow writers, including Professor Maria Poprzęcka and Olga Tokarczuk.
Pola Dwurnik's work has been shown at numerous group and solo exhibitions at the Zachęta National Gallery of Art in Warsaw, Centre for Contemporary Art Ujazdowski Castle in Warsaw, Centre of Polish Sculpture in Orońsko, Museum of Contemporary Art in Kraków, Trafostacja Sztuki in Szczecin, BWA galleries in Tarnów, Kalisz, Jelenia Góra, Zielona Góra and Nowy Sącz, Arsenal Gallery in Bialystok, HAU2 in Berlin, National Museum of the 21st Century Art MAXXI in Rome, Krasnoye Znamya Cultural Centre in St. Petersburg and many others.
Pola Dwurnik lives and works in Warsaw, Berlin and Basel.
The vernissage will be followed by a concert by Pola Dwurnik's musical project called Cosmic Parrot. The live improvised music will be performed by the multi-instrumentalist Mateusz Franczak.
The exhibition will run from 18 May to 17 June, 2018.
Visit the artist's website >>
Od 2 października 2018 uruchomiony został nowy serwis galerii pod adresem: http://galeriabielska.pl/
_____________________________________________________________
Stara strona stanowi archiwum galerii: http://archiwum.galeriabielska.pl
Przekierowania z głównej strony

>>
Nasze profile:
__________________________

>>