Anna Demianiuk - STRANGE WORLDS
Cafe Club Aquarium
(2 February - 4 March)
vernissage: Thursday, 8 February, 5 pm
_______________________________________________________________________
"The works created by Anna Demianiuk - a 24-year-old resident of the small town of Meszna - are multi-coloured and captivating. Their village-fair beauty makes it impossible for them to go unnoticed. We can't help but keep rediscovering and re-experiencing these outlandish worlds whose dynamic yet brocaded beauty never ceases to amaze. Typically for naive art, it makes us think and brings smiles to our faces. Three years ago, Anna joined the art group Atelier which is based in the community centre Kubiszówka in Bielko-Biała. Despite young age and shortage of artistic education, the artist has found her niche and recently become very successful.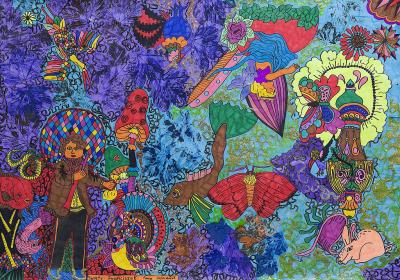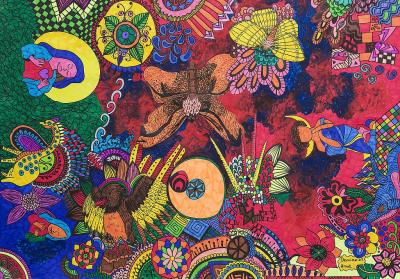 Anna Demianiuk draws her inspiration from the plant and animal worlds, as well as human figures arranged in pile up masses and subsequently filled with pure colours. These strange and beautiful worlds fill us with both surprise and lightness, captivating us with their authenticity."
Katarzyna Żaczek
Anna Demianiuk - was born in 1993 in Bielsko-Biała. She has learned her skills at the Atelier Art Studio at the Wiktoria Kubisz Municipal Community Centre in Bielsko-Biała, which operates under the artistic supervision of Katarzyna Żaczek.
Solo exhibition at Książnica Beskidzka [public library] in Bielsko-Biała (2016); participation in the international naive art festival - Art Naif Festival at the Wilson Shaft Gallery in Katowice-Nikiszowiec (2016 and 2017), as well as in the Bielsko-Biała edition of the exhibition entitled Other Worlds of Art Naif which was held in the Kubiszówka Community Centre (2017); participant of the final exhibition of the 43rd Biennale of Painting 'Bielska Jesień' 2017 at Galeria Bielska BWA (2017). In January 2018, she received honourable mention at the Trienniale of Naive Art and the Edward Sutor Art Brut Festival of the Polish-Slovakian Borderland. Her artistic achievements brought her nomination for the Merit to Culture Award of the District Governor of Bielsko-Biała in 2017.
The exhibition runs from 2 February to 4 March, 2018.
Od 2 października 2018 uruchomiony został nowy serwis galerii pod adresem: http://galeriabielska.pl/
_____________________________________________________________
Stara strona stanowi archiwum galerii: http://archiwum.galeriabielska.pl
Przekierowania z głównej strony

>>
Nasze profile:
__________________________

>>