Agata Agatowska - One Day on Mars
8 March - 2 April 2017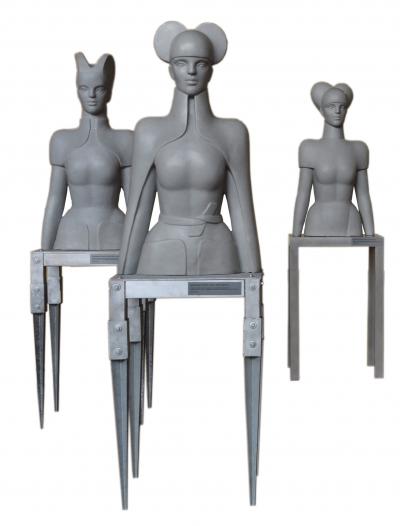 "An exhibition of sculptures created between 2008 and 2015 by Agata Agatowska. The artist experiments with both resins, such as mastic or colatec, and more conventional materials, including concrete, bronze and aluminium, which she uses in unconventional ways, e.g. by lacquering a bronze cast red. In search for a perfect smoothness, she takes a long time polishing her casts. The result is a feast for the eyes and magnet attracting the viewer to touch the object.
The artist's favourite motif is the human figure, usually of a girl, in a simplified, streamlined form. The futuristic costumes of her characters show inspiration with modern mythology, including the mass culture, the Japanese manga, the comic strip. Her quest for the perfect form and proportion makes her work reminiscent of the hieratic Egyptian sculptures. Their motionless, erect half-figures on metal pedestals brings to mind the emergence a fantastic Star Wars-like army."
Agata Smalcerz
Agata Agatowska was born in 1976 in Oświęcim. She studied sculpture at the Academy of Fine Arts in Wrocław (Master's degree in 2001, PhD in 2012) and sculpture and set design at the Kunstakademie in Düsseldorf, Germany (graduated in 2012). She worked as a pantomime actress at the Velvets Theater in Wiesbaden between 2002-2006.
The artist has received numerous awards for her sculptures, including the Darmstädter Sezession Award in Darmstadt, Germany and the Grand Prix at the 5th Biennale of Young Art 'Fish Eye' in Słupsk, both in 2008. She has won several scholarships from the town of Oświecim, as well as from the Hedwig und Robert Samuel Stiftung and Friedrich HJ Schneider Stiftung foundations, both based in Düsseldorf, Germany.
Agata Agatowska has presented her work at 15 solo exhibitions.
She has participated in 65 group exhibitions in Poland, Germany, the UK, the USA and China.
She displayed her work in Galeria Bielska BWA in 2001 during the second Woman abut Woman exhibition, and in 2010, when she held a solo exhibition of her sculptures and drawings. The 3rd Festival of Visual Arts in Bielsko-Biała in 2014 provided an opportunity for the artist to inaugurate a work-in-progress-style project called Infinity - Shadow of the Hand.
In 2016, the municipality of Oświecim honoured the 20th anniversary of the artist's creative work by exhibiting her sculptures in a number exhibition halls and outdoor spaces - an initiative which also aimed at encouraging the public to visit the historic town centre.
Od 2 października 2018 uruchomiony został nowy serwis galerii pod adresem: http://galeriabielska.pl/
_____________________________________________________________
Stara strona stanowi archiwum galerii: http://archiwum.galeriabielska.pl
Przekierowania z głównej strony

>>
Nasze profile:
__________________________

>>