Marta Fonferek - PAINTING
Cafe Club Aquarium
The exhibition opens on:
Friday, 3 February, at 5.30 pm
This exhibition of paintings by Marta Fonferek inaugurates the celebrations of the 20th anniversary of the Residential Care Home "Podkowa" (Horseshoe) in Bielsko-Biała. The 36-year-old artist from Bielsko is a participant of the therapeutic art workshop in "Podkowa". The workshop helps the participants to break down barriers resulting from fear and disease which prevent normal contacts with the outside world.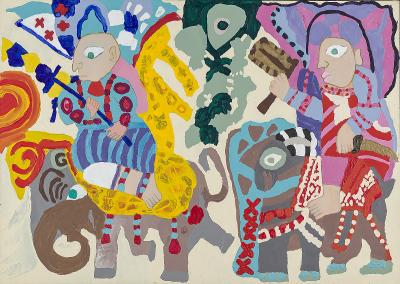 Marta Fonferek only began to paint when joined "Podkowa". Her paintings with the use of acrylic on cardboard, are full of juicy colours, plants, animals and people with distinctive facial features, all creating a cordial and enthralling world. Painting is for Marta Fonferek a way to express her individuality and develop talent.
Marta Fonferek's paintings have been presented at the exhibitions in the Teacher's Club (December 2013), the Regional Community Centre (October 2014) and the "Beskidzka" Library (November 2014).
The exhibition runs from 3 to 26 February, 2017 (during the opening hours of Café Club Aquarium).
Read more about the Residential Care Home "Podkowa" >>
Od 2 października 2018 uruchomiony został nowy serwis galerii pod adresem: http://galeriabielska.pl/
_____________________________________________________________
Stara strona stanowi archiwum galerii: http://archiwum.galeriabielska.pl
Przekierowania z głównej strony

>>
Nasze profile:
__________________________

>>