Wildlife Photographer of the Year 2016
3-30 January 2017
Vernissage: Tuesday, 3 January 2017, 6 pm.
Admission free
The exhibition features works from the Wildlife Photographer of the Year 2016, held annually since 1965. The competition was initially organized by the BBC Worldwide, then between 1986 and 2014 it was run in collaboration with the Natural History Museum, until this role was entrusted exclusively to the Museum in 2015. Today this is the world's largest and most prestigious competition in wildlife photography for both professionals and amateurs of all age groups, including young adults and children.
Most wildlife photographers aspire to win awards. And they do if the photograph combines originality, sheer luck and natural knowledge of the person behind the camera. All these do not necessarily require cutting-edge equipment or travelling around the world.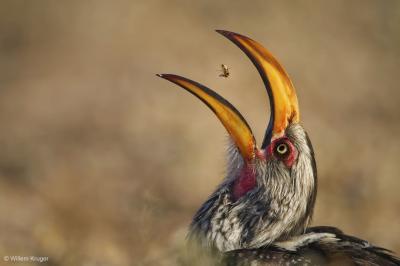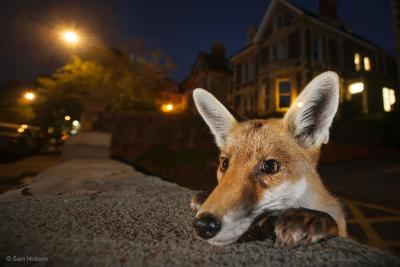 This year the winning works were selected from 50 thousand of photographs sent by 4 thousand photographers from 95 countries. The 52. exhibition of Wildlife Photographer of the Year shows 100 award-winning photographs by 79 photographers from 22 countries. The competition included 16 categories.
Every year thousands of photographers send in their wildlife photographs taken all over the world; they are always proof to their insightful observation of the world's flora and fauna, and often a result of long-term tracking of wild animals.
This year the Grand Title of the Wildlife Photographer of the Year 2016 was awarded to the American field biologist and wildlife photojournalist Tim Laman for the photograph titled Entwined lives which he had taken in Gunung Palung National Park, Borneo, Indonesia.Tim captured in one remarkable frame a young male orang-utan climbs an emergent tree in its ever-dwindling habitat.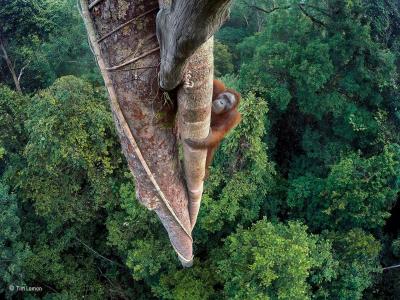 The Grand Title of the Young Wildlife Photographer of the Year 2016 went to 16 years old Gideon Knight from UK for the photograph entitled "The Moon and the crow". Catching sight of a crow in the park, Gideon thought the spindly twigs of the sycamore tree 'made it feel almost supernatural, like something out of a fairy-tale'.
The exhibition which always premieres in London's Natural History Museum in autumn is then visited by millions of viewers in a few dozen countries all over the world. It will be shown for the fourteenth time in Galeria Bielska BWA in Bielsko-Biała out of the fifteen times in Poland so far.
The visitors in Bielsko-Biała will be the first to see the show in Poland, then it will travel to Bytom, Sopot, Toruń and Sandomierz.
The exhibition will be open until 30 January, 2017

During the exhibition period the Gallery will be open longer to attract more viewers - 8 am to 6 pm Monday to Friday and the usual 10am to 6 pm Sunday. Admission free.
________________________________________________________
Wildlife Photographer of the Year is owned and disseminated by the Natural History Museum in London.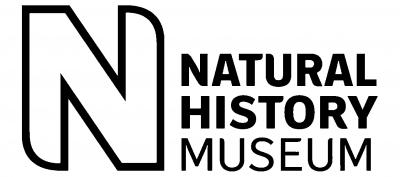 Main sponsor of the exhibition in Bielsko-Biała: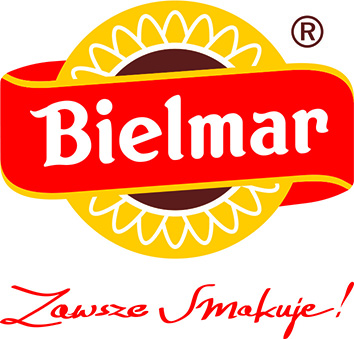 Media patrons: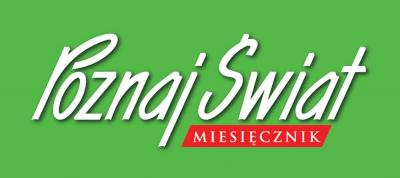 Organization of the exhibition in Poland

More informations about The Wildlife Photographer of the Year competition on the webpage: www.nhm.ac.uk/wildphoto
Od 2 października 2018 uruchomiony został nowy serwis galerii pod adresem: http://galeriabielska.pl/
_____________________________________________________________
Stara strona stanowi archiwum galerii: http://archiwum.galeriabielska.pl
Przekierowania z głównej strony

>>
Nasze profile:
__________________________

>>