Squaring the Circle
Vernissage: Thursday, 1 September 2016, 6 pm.
___________________________________________________________________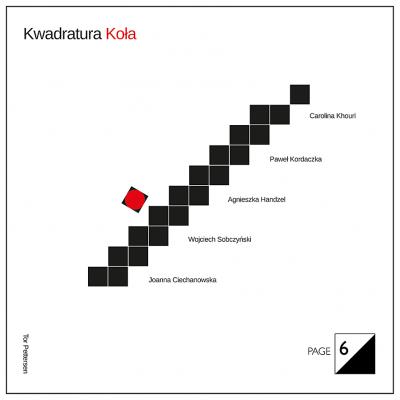 The exhibition presents a series works by artists from the London-based group Page 6 who have embarked on a creative quest in the area of circle squaring.
The starting point was a mathematical paradox presented in a brilliant drawing known as The Vitruvian Man, by Leonardo da Vinci, who defined the proportions of the human body by inscribing it in both a circle and square. Members of the group Page 6 attempted their own, modern interpretation of this mathematical conundrum. They refrained from any restrictions on style, and the different artistic expressions were intended to produce a variety of solutions to the problem. The only rule was the canvas size - the same for each artist.
The "Squaring the Circle" project consists of 20 paintings, 100 x 100 cm each. The ultimate joining of the individual works into a single whole will result in a creative dialogue involving both the multifaceted exhibition and the intellectual expression of the artists.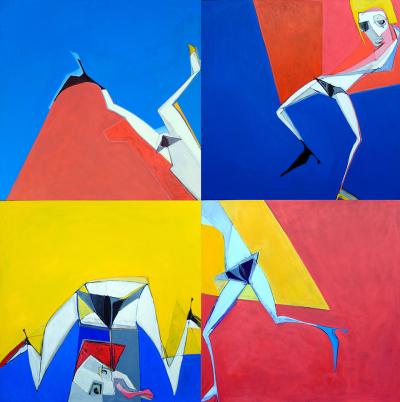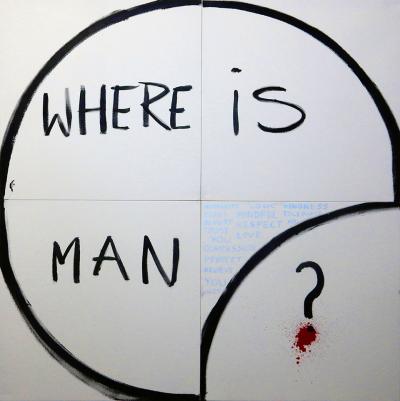 This exhibition is dedicated to the late Tor Pettersen who collaborated with the Page 6 group from the beginning of it's existence and, through his projects, took part in shaping the artistic identity of the group. The promotional graphics for the exhibition are based on a concept sketch for his last - unfinished - graphic design project.

Project mastermind and curator: Wojciech Antoni Sobczyński
Curator: Carolina Khouri
The exhibition runs until 25 September 2016.
The art group known as Page 6 was formed in 2010 by Wojciech Antoni Sobczyński. Initially, the group consisted of six London-based artists of Polish origin. Currently, it is composed of five artists: Joanna Ciechanowska, Agnieszka Handzel-Kordaczka, Carolina Khouri, Paweł Kordaczka and Wojciech Antoni Sobczyński.
It is the collision of cultures that characterises the common experiences of each of the group members; cosmopolitan London with Polish tradition.
Further cohesion of the group is derived from a shared desire for seeking a new means of artistic expression through unconventional exhibitions.
The traditional format of a "Salon des Arts" is abandoned in favour of a different narrative: Page 6 presents its members in a way that allows each to cultivate their own 'art territory' and yet draw unity from a single formal mode of materialisation.
_________________________________________________________________________________
This exhibition has been made possible thanks to cooperation between Galeria Bielska BWA and the Polish community in London represented by Page 6, and is part of the "Polish Connection" artistic exchange programme. This July and August saw 10 artists from Bielsko-Biała present their work at the exhibition "The Ten of Arts" which was held in London's Montage Gallery and POSK Gallery.
________________________________
Partner:
Support:
Od 2 października 2018 uruchomiony został nowy serwis galerii pod adresem: http://galeriabielska.pl/
_____________________________________________________________
Stara strona stanowi archiwum galerii: http://archiwum.galeriabielska.pl
Przekierowania z głównej strony

>>
Nasze profile:
__________________________

>>