Jarosław Fliciński - CASA-COSMOS. HOMEMADE PAINTINGS 2010-2015
27 April - 22 May 2016
meeting with the artist: Wednesday, 27 April, 5 pm (free admission)
vernissage: Wednesday, 27 April, 6pm
____________________________________________________________________
The exhibition presents works by Jarosław Filicński from the last five years: paintings, works on paper, photographs, and objects found around his house in Esteval, Portugal. The artist showed his paintings at two curated exhibitions held as part of the Painting Biennale "Bielska Jesień" - these were Between Aesthetics and Metaphysics designed by Bożena Czubak in 1999, and Self-Ignition, curated by Michał Suchora in 2012. At the former, he displayed his painting cycle Diving and a series of geometrical abstractions called Faites vos jeux, and at latter he presented completely different works created with alkyd enamel on aluminium - a series which will form the core of the exhibition Casa-Cosmos.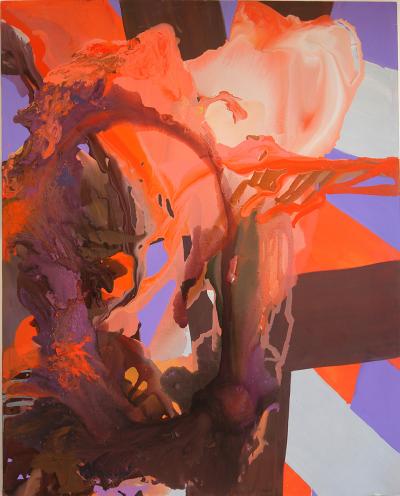 Michał Suchora wrote: "Like with a lens, the works featured at Self-Ignition focus on all the 'anomalies' of the following stage of Fliciński's painting. Here the coloured forms are devoid of the former internal consistency. The varnishes appear to be flowing off the painting. The artist himself says: Although my works change quite unexpectedly, there appears to be consistency in the change. Quiet at the start, they then begin to drop coat after coat, or even squeeze all of the colours out, which spill in an unpredictable, yet not necessary random way."
Jarosław Fliciński - b. 1963 in Gdańsk; from 1982-1986 he studied at the Faculty of Architecture of the Technical University of Gdańsk, and then at the Faculty of Painting at the Academy of Fine Arts in Gdańsk (graduated in 1991). In addition to painting, the artist's pursuits include photography and video.
Od 2 października 2018 uruchomiony został nowy serwis galerii pod adresem: http://galeriabielska.pl/
_____________________________________________________________
Stara strona stanowi archiwum galerii: http://archiwum.galeriabielska.pl
Przekierowania z głównej strony

>>
Nasze profile:
__________________________

>>