Ewa Zawadzka - Matter of Silence
26 February - 28 March 2016
Vernissage: Friday, 26 February, 6 pm
_________________________________________________________________
Solo exhibition by Ewa Zawadzka presenting paintings and prints from the period between 2003 and 2015. The motto of the exhibition is the Latin maxim Sufficit unum lumen in tenebris (A single light suffices in the darkness), emphasizing the unique role of light and at the same time darkness, permeating the artist's work.
"I think many things happen intuitively in my work . I started with drawing, which I enjoyed, and then moved on to print - a means of expression I was successful in for many years; until I felt that I needed a new challenge, new adventure - it was an urge to face a different and unfamiliar material. I have been successfully pursuing painting for several years. These are deep structures, monochromatic, yet with the use of colour, on a large piece of canvas. And this is exactly what I needed - synthetic, monumental compositions," says Ewa Zawadzka.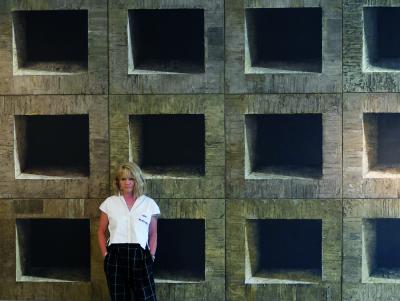 Filling raw concrete blocks which we see every day with light and darkness allows the artist to create images of stunning simplicity and harmonious composition. The realistic concrete walls acquire a new meaning - besides artistic or philosophical references, there are also cultural and social allusions, related to the deep-rooted human need to be fenced or walled off from strangers.
Ewa Zawadzka - graduate of the Academy of Fine Arts in Kraków, Faculty of Graphic Arts in Katowice (1971-1976); degree in print under Professor Andrzej Pietsch; Lecturer at the Faculty of arts at the Jan Długosz Academy in Czestochowa (1986-2010); head of the Department of Print at the European Academy of Fine Arts in Warsaw (1995-2000); awarded the title of Professor in 1999. Currently she is a lecturer at the Academy of Fine Arts in Katowice, and the head of the Multigraphics Department of the Faculty of Printmaking (since 2004); also teaching at the Technical University in Katowice, Faculty of Graphic Arts and Faculty of Interior Design. She was a member of the program board and the organizing committee of the International Print Triennale in Kraków, curator of the Polish Print Triennial in Katowice and the Commissioner of the Polish section at the International Biennale of Graphic Arts in Ljubljana (Slovenia, 1999) and Miskolc (Hungary, 2002). She is a member of the programme board of the Festival Ars Cameralis in Katowice and of the Sosnowiec Art Centre - Zamek Sielecki in Sosnowiec; since 2013 member of the Union of Polish Art Photographers. Her artistic activities include painting, print, drawing and photography. The artist is the winner of numerous awards at International Print Triennial. Her work can be found among numerous major art collections all over the world. She lives in Sosnowiec.
Od 2 października 2018 uruchomiony został nowy serwis galerii pod adresem: http://galeriabielska.pl/
_____________________________________________________________
Stara strona stanowi archiwum galerii: http://archiwum.galeriabielska.pl
Przekierowania z głównej strony

>>
Nasze profile:
__________________________

>>