Sławomir Brzoska - "Fluid Identity. Future and past in children's drawings featuring disappearing cultures"
21 January - 6 March 2016
Vernissage: Friday, 29 January, 6.30pm
__________________________________________________________________
The exhibition in the lower room of Galeria Bielska BWA will show the results of an extensive project by Sławomir Brzoska, which included work with primary school children in the Baliem Valley in Wamena, West Papua.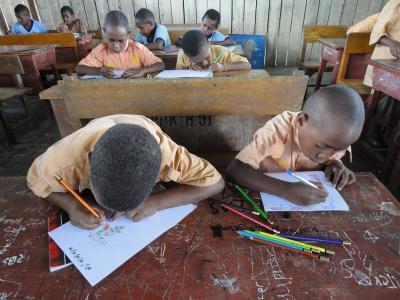 "These will be mainly children's drawings from the Baliem Valley in West Papua, desert areas of central Oman, and the Upper Silesia - all addressing questions about the past and visions for the future. Working with children has been one of the activities in the research entitled Fluid Identity which I have been heading under a grant from the University of Arts in Poznań. In addition, you will be able to see a documentary showing the life in the Baliem Valley, as well as some documentation of the land art activities which I conducted on five continents under the collective title Travel Sketches, says Sławomir Brzoska.
Sławomir Brzoska - born on 22 April, 1967 in Szopienice; studied at the Institute of Art of the University of Silesia in Cieszyn; head of the Spatial Activities Studio 9 at the University of Arts in Poznań and the Spatial Activities Department at the Academy of Fine Arts in Katowice; his artistic pursuits include sculpture, installation art, video, land art, performance, and nomadic experience of the world.
Od 2 października 2018 uruchomiony został nowy serwis galerii pod adresem: http://galeriabielska.pl/
_____________________________________________________________
Stara strona stanowi archiwum galerii: http://archiwum.galeriabielska.pl
Przekierowania z głównej strony

>>
Nasze profile:
__________________________

>>