FILONIK - SUDNIK. Feature installation
Galeria Bielska BWA
The shows runs from 6 to 22 November 2015
Vernissage: Friday, 6 November 2015, 7 pm
___________________________________________________________________________
The exhibition accompanies the 13th Jazz Autumn Festival held in Bielskie Centrum Kultury (8-15 November).
The "Filonik - Sudnik. Feature Installation" project aims to show three different types of artistic expression which combine into a single story. These are: object - in the form of a number of figurative sculptures, light - an installation of fluorescent lamps by Mirosław Filonik, and sound by Tadeusz Sudnik - all coexisting at an equal level to create a truly exceptional audiovisual space.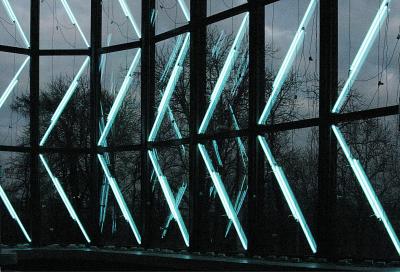 "Although legible and clearly defined, the story behind this installation is not unambiguous, which creates room for various interpretations of the content which could be analyzed at multiple levels. As a result, the reception may prove an interesting and perhaps surprising experience for the viewer" - says Miroslaw Filonik.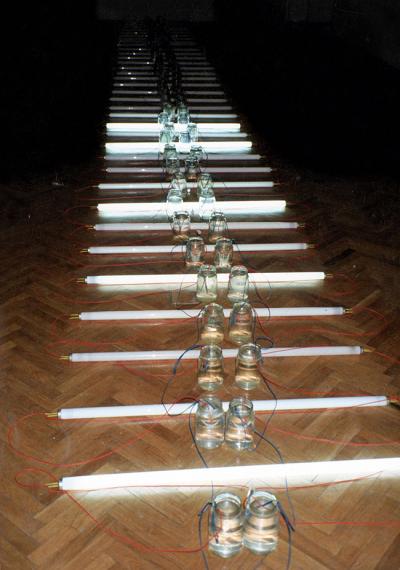 This will be the third realization by Miroslaw Filonik in Galeria Bielska BWA. The first light installation on the façade of the gallery alluded to the tradition of animated film in Bielsko-Biała (2002), the second one, entitled Inhale -Exhale was mounted on the large glass wall of the gallery (2008) and radiated light to the interior of the cafe and the outside of the building. Both projects were given the common title Daylight System, referring to lamp light which is similar to natural light. In his works, always designed for a specific space, the artist uses simple geometric forms and signs; their structure always develops from a single base unit, a repetitive element.
Mirosław Filonik - born in 1958. Sculptor. Following the graduation from the Academy of Fine Arts in Warsaw, he teamed up with Miroslaw Bałka and Marek Kijewskis to establish the group Neue Bieriemiennost. He has been making light installations since the late 1980s with the use of fluorescent lamps manufactured for the artist by Philips Lighting Poland. He is interested in the issue of the presence of art in public space, hence his installations are usually made for specific architectural objects. Following a long break, he started to use figurative elements again, presenting them in a new context. His installations are often accompanied by sound settings, composed for specific projects. The artist has participated in over one hundred solo and group exhibitions in Poland, including the Centre for Contemporary Art, Museum of Modern Art, Zachęta Gallery in Warsaw, and Galeria Bielska BWA; and abroad, including Germany, Italy, Finland and Russia.
Tadeusz Sudnik - born in 1955. Musician, composer and sound engineer. He is the initiator and founder of the Impossible Sounds Studio, creator of multimedia concert-performances. He is interested in playing live on analogue synthesizers, electronic sound generating devices. He creates a variety of sound effects during his live concerts. He has worked in the Experimental Studio of the Polish Radio in Warsaw, where he recorded and played electronic, drama, film and ballet music. He has cooperated with the Warsaw Autumn festival, Polish Society for Contemporary Music, Polish Composers' Union, National Theatre, Teatr Mały, and the Ad Libitum festival. He has also appeared at a number of other prestigious festivals including Inventionen in West Berlin, and Montreux. He has cooperated with Tomasz Stańko, Krzysztof Knittel, Andrzej Przybielski, Helmut Nadolski, Adam Pierończyk, Zdzislaw Piernik, Sonny Sharrock and Gary Thomas.
______________________________________
Od 2 października 2018 uruchomiony został nowy serwis galerii pod adresem: http://galeriabielska.pl/
_____________________________________________________________
Stara strona stanowi archiwum galerii: http://archiwum.galeriabielska.pl
Przekierowania z głównej strony

>>
Nasze profile:
__________________________

>>