AGNIESZKA NOWIŃSKA - THE BLOOMING BREATH. Painting
Galeria Bielska BWA - Aquarium Cafe Club
24 July - 30 August 2015
Vernissage, meeting with the artist: Thursday, 6 August, 7 pm
Moderated by: Jan Picheta
_________________________________________________________________________
Small exhibition of paintings created with the use of a unique technique involving water and breath which the artist learned during the three-year study at the Academy of Fine Arts in Valencia (Spain). Nature-inspired works are heavily saturated with colour.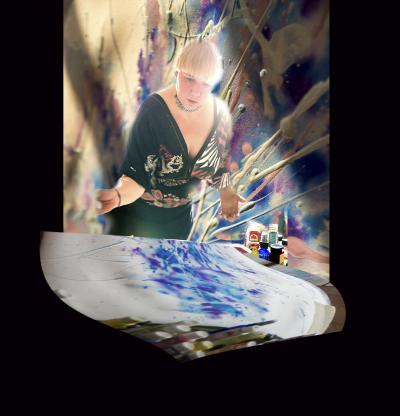 "Nowadays I don't paint with a brush, but with water and breath. I blow particles of paint on the canvas and form them into lagoons of stalactites or other desired shapes. This creates a kind of background which I sometimes leave as it is or at other times complement it with new forms to give the work a deeper meaning. In my creative process I'm often helped by one of the five natural elements - water. It is the rain that creates the unpredictable forms which I later mould into a coherent whole. Water and breath - these two essential elements of life have become my greatest sources of inspiration" - explains Agnieszka Nowińska.
Agnieszka Nowińska hails from Bielsko-Biała where she attended the Secondary School of Fine Arts. She holds an honour's degree in painting and stage design from the Academy of Fine Arts in Kraków (1998), and a degree in interior architecture, also from the Academy of Fine Arts in Kraków (1999). Based on the book by Jules Verne, her graduation project Journey to the Centre of the Earth was presented at the European Way of Life exhibition in the Carrousel Gallery in the Louvre (2001). In 2002 she received a scholarship from the Ministry of Culture and Art in Madrid (Spain). Her doctoral thesis focused on the art of Tibet and she received her Ph.D with honours at the Faculty of Fine Arts Academy of San Carlos University of Valencia in Spain (2006).

The artist lives in the United States. In 2012 she received a fellowship from the Ford Foundation which enabled her to stage a solo exhibition in the gallery Product 81 in Miami, Florida. Between 2013 and 2014 she exhibited her work in numerous galleries in New York, including one of Manhattan's best the Onishi Gallery Project.
She has been a member of Underground Gallery in Arkansas (USA) since 2013.
________________________________________________________
Od 2 października 2018 uruchomiony został nowy serwis galerii pod adresem: http://galeriabielska.pl/
_____________________________________________________________
Stara strona stanowi archiwum galerii: http://archiwum.galeriabielska.pl
Przekierowania z głównej strony

>>
Nasze profile:
__________________________

>>