JÓZEF HULKA, ANTONI TOBOROWICZ - "TWO WORLDS"
Vernissage: Friday, 24 July, 5 pm
_________________________________________________________________________
Two Worlds is an exhibition presenting the artistic achievements of two well-known and recognized artists - Józef Hulka and Antoni Toborowicz from the villages of Łękawica and Wola Libertowska respectively. The former is an outstanding representative of traditional folk art. His pursuits include sculpture in wood and stone, glass painting and so-called ritual art associated with Christmas period (cribs, stars, goat outfits, etc. used by carol singers). His beautifully ornamented cribs with puppet are modelled on the old wooden church in his native village. His sculptures and paintings are dominated by religious themes, especially the images of Jesus and the Virgin Mary. He is one of the last representatives of authentic folk art in the Beskidy Mountains.
Antoni Toborowicz is a unique artist creating a fairy-tale images of plants and animals. He uses the achievements of traditional folk art in a creative way. His works are synthetic and economical in colour and form; majestic and yet humble. The artist works mainly in wood, and often includes leather and wicker elements in his works. His sacred sculptures can be found in a number of churches. In his early period he concentrated mainly on woodcut. Later, he devoted himself entirely to sculpture, and began to create exceptional works embedded in the landscape of his beloved homeland.
Both artists live and work in the same country - Poland, and yet their worlds are so different; even if they appear to show the same - images of Jesus, the Virgin Mary, the angels and saints and folk musicians, pets ... all these are what unites them.
Come and see an extraordinary exhibition of extraordinary artists!
Zbigniew Micherdziński, exhibition curator
_________________________________________________________________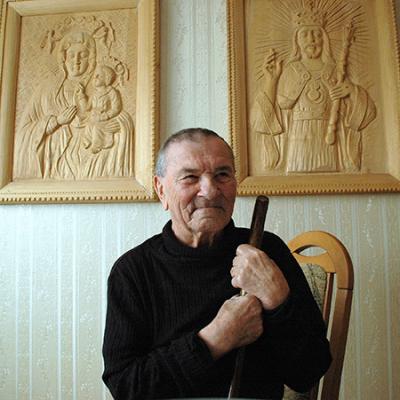 Józef Hulka (b. 1926) - a folk artist from Łękawica (District of Żywiec).
He first made a name for himself during a 1950 folk art competition in the Municipal Museum in Żywiec. That was the beginning of his participation in numerous competitions and exhibitions. When he was younger, he also used to appear in various folk fairs and events. He is a member of the Folk Artists Association, winner of numerous folk art competitions and holder of many prestigious awards, including the Oskar Kolberg Award, which he received jointly with his wife in 1992. In 2014 he received the Marshal of the Province of Silesia Award for disseminating culture.
This inconspicuous-looking but prodigiously talented artist is thoroughly self-taught; although we must not forget the persistent support, often mixed with criticism, of his wife, Anna (1925-2010), who quite inadvertently became an artist herself.
Today Józef Hulka is still very skilful with his chisel, although naturally, due to old age and failing strength, he has had to limit the amount of manual work. Nevertheless, he remains an ardent painter, especially when motivated. His latest paintings still show regular brush strokes and perfect, or as one would be tempted to say, professional composition and mature thought. Yet, his favourite form of expression is the written word and conversation. And what he imparts with words, he really expresses in the form of a painting thus created before the eyes of the listener.
Barbara Rosiek, excerpt from the text Indefatigable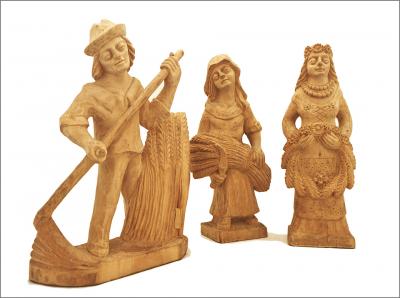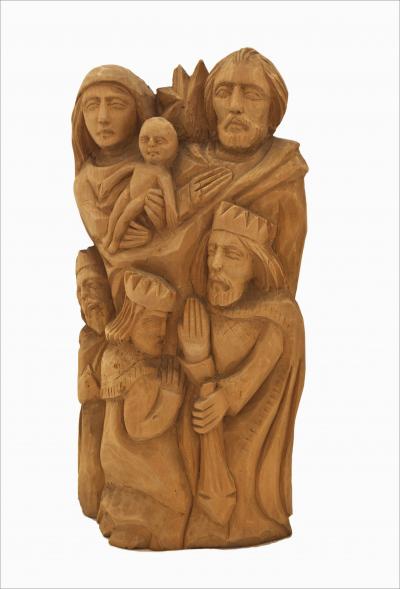 Józef Hulka talks about healing with water and prayer.
Listen on TV Beskidy >>
_____________________________________________________________________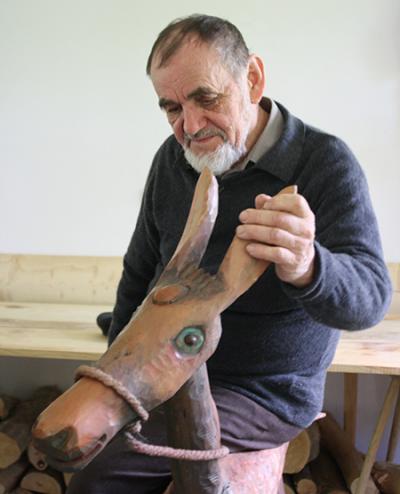 Antoni Toborowicz - born in 1941 in Wola Libertowska (Kraków-Częstochowa Upland), a self-taught artist, runs his own gallery combined with the Museum of Crosses and Chapels, designs and executes interiors of churches (Celina, Dobraków, Tychy, Warsaw), homes and public buildings. His works are complemented with colour by the artist's daughter Weronika Witkowska.
His sculptures of the last twenty years are sheer poetry engraved in wood. As we gaze at these fantastic beasts and birds, we hear familiar lines resounding in our ears, such as "a bumblebee buzzing mischievously as if to scare the flowers", "spider webs sparkling wet and torn", and "a hairy beetle crawling backwards on its back" from the second stanza of Raspberry Bushes by the Polish poet Bolesław Leśmian. His fauns, dwarves and birds on stilts for legs could well have emerged from the local osiers, rushes and reeds. His little men blow tiny trumpets made of hackberry branches. The natural world mingles with folklore. (...)
Goat breeding and beekeeping are activities that complement the image of the artist, looking at the natural world with great sensitivity and awe. For Antoni Toborowicz has the soul of a poet, writing his poetry in wood.
Maria Lipok-Bierwiaczonek, excerpt from the text Poet Writing in Wood.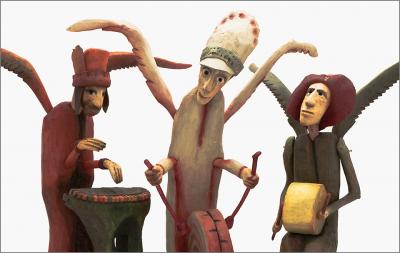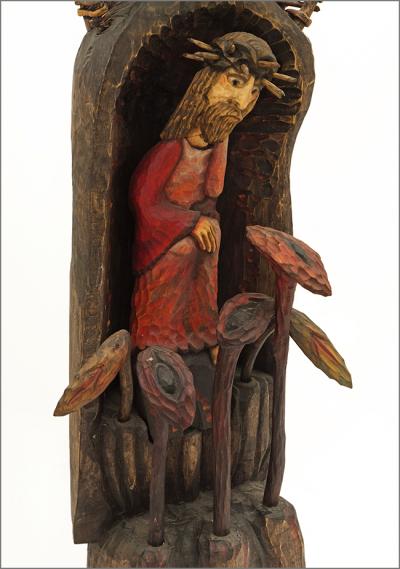 The exhibition runs until 30 August 2015.
The Exhibition accompanies the 52 nd Beskidy Culture Week (25 July - 2 August 2015).
________________________________________________________________________
Organizers:
Galeria Bielska BWA, the Regional Centre of Culture in Bielsko-Biała.
The exhibited works come from the artists' collections, the Museum of Silesia in Katowice, the Municipal Museum in Tychy, and the Municipal Museum in Żywiec.
________________________________________________________________________
The venissage will be accompanied by a gig by the folk band Warzonka with:
Marcin Blachura ­- violin, bagpipes of Żywiec, shepherd's instruments
Michał Hutyra - violin
Przemysław Leszczyński - violin
Przemysław Ficek - bass, bagpipes of Żywiec, shepherd's instruments
__________________________
Od 2 października 2018 uruchomiony został nowy serwis galerii pod adresem: http://galeriabielska.pl/
_____________________________________________________________
Stara strona stanowi archiwum galerii: http://archiwum.galeriabielska.pl
Przekierowania z głównej strony

>>
Nasze profile:
__________________________

>>