KAROL PUSTELNIK (1918-2010) - Painting, drawing
25 June - 19 July 2015
vernissage: Thursday, 25 June, 6 pm
____________________________________________________________________________
The exhibition presents the achievements of the late artist from Wadowice, a member of the legendary Kraków Group (Second Kraków Group, founded in 1957). The works come from the collections of the artist's family.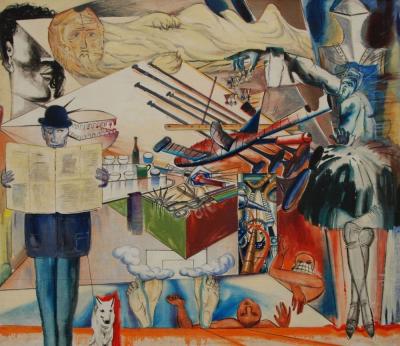 Karol Pustelnik was born in 1918 in Frydrychowice near Wadowice. He died in 2010. He drew and painted since childhood, while closely observing his father carve small wooden birds and other creatures. In 1936 he began studying at the National School of Decorative Arts and Crafts in Kraków, renamed in 1938 as the Institute of Fine Arts. He received his degree in 1952. From 1953, he participated in the regional exhibitions of the Polish Artists' Association in Kraków, and from 1956 he was a member of the Salon of the Society of Friends of Fine Arts, also in Kraków. In 1958 he became a member of the "Kraków Group" Artistic Association and subsequently took part in all of the group's presentations.
The artist's work can be found in the collections of the National Museums in Warsaw and Kraków, the Museum of Art in Łódź, District Museums in Lublin, Bydgoszcz, Tarnów, Chełm, Bielsko-Biała, in the Museum of Emil Zegadłowicz in Gorzeń Górny and in private collections in Poland and abroad (Sweden, Switzerland, Germany, UK and Czech Republic ).
Marta Tarabuła of Galeria Zderzak in Kraków describes Karol Pustelnik as an artist who preferred to remain on the sidelines rather than follow the latest trends and fashions: "Pustelnik displayed a very unique artistic sensitivity which combined alertness to changes in avant-garde art with a poetic sense of a primitive painter. His art, once so foreign and detached, has now become surprisingly up-to-date. His nonchalant mixing of reality and fantasy, sketch-like treatment of the form, childlike spontaneity and naivety, and last but not least, his intuitiveness and emotionality - all these are also characteristic for painting represented by the youngest generation of artists known as the Neue Wilde. But whereas the "wild youth" painting is an expression of a kind of anarchy, a defiance of a whole generation against existing standards and systems in favour of a postmodern freedom of creation, Pustelnik developed his own conception of art - a unique approach honed over many years of creative work. What the Neue Wilde have drawn from decades of changes in art, what was shaped by the interaction between different avant-garde trends and then adopted and modified by post-modernism, Pustelnik had developed independently by his direct and unassuming approach. His spontaneous, naive sensibility allowed him to ignore the barriers between different poetics and to juggle various artistic conventions in an original and - surprisingly modern way."
Curator - Józef Chrobak, the "Kaków Group" Artistic Association.
_____________________________________________________
Od 2 października 2018 uruchomiony został nowy serwis galerii pod adresem: http://galeriabielska.pl/
_____________________________________________________________
Stara strona stanowi archiwum galerii: http://archiwum.galeriabielska.pl
Przekierowania z głównej strony

>>
Nasze profile:
__________________________

>>