IRENA NAWROT - ROSARIUM
6 February - 12 March 2015
vernissage: 7 pm, Friday, 6 February
_________________________________________________________________________
The primary artistic medium used by Irena Nawrot is a photographic image. The artist's main area of interest is the problem of time and its effect on humans. The artist usually addresses autobiographical themes, treating her own image (or that of the loved ones) as a primary theme in the work. She regards her own experience of flesh as a structural element for building universal reflection.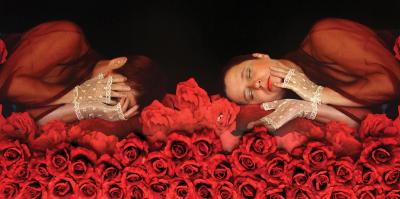 The exhibition Rosarium once again raises the issues of time and passing, which are complemented by the new element of the sepulchral. The leitmotif of the exhibition is the theme of the skull. Kitsch appeal combined with funereal elements constitute a kind of game with the aesthetics and the convention addressing the theme of vanitas.
The presentation includes photographic works of an inter-media character: large colour photographs - the image of a woman and a human skeleton - with built-in ready parts, such as artificial flowers, jewellery, beads, led lamp light and large collages showing images of women, a human skull, rose flowers - all consisting of multiplied hand stitched picture-modules.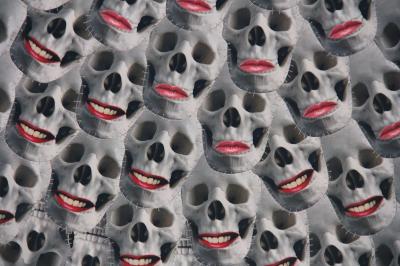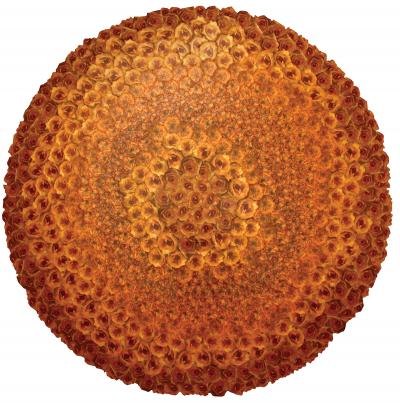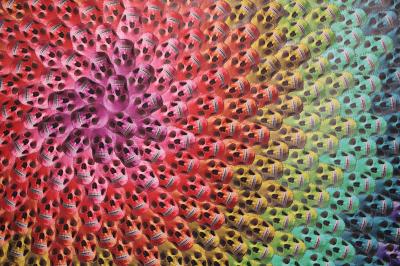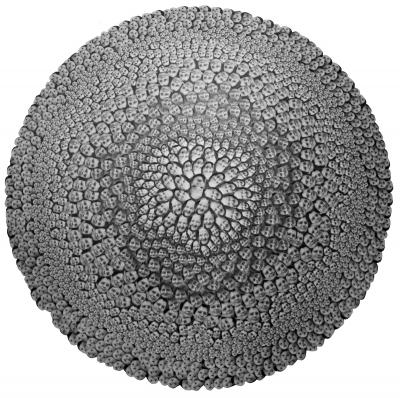 "Because of its fragrance and beauty, the rose is one of the most common plant symbols. In ancient times, the rose was dedicated to Aphrodite. The red rose was to arise from the blood of Adonis and was a symbol of love, fertility and reverence for the dead. Roses appeared during feasts in honour of Dionysus, as they were believed to possess a cooling effect. They were to remind heavy drinkers to no betray their secrets while intoxicated. In early Christianity, the rose was a symbol of discretion. The red rose symbolises the blood and wounds of Christ, as well as being a mystical representation of rebirth. In the Middle Ages, the rose was an attribute of virgins, including the Virgin Mary. The red rose is a symbol of God's love. In alchemy a seven-petal rose symbolises the seven planets.
Today, the red rose is almost exclusively a symbol of love" - says Irena Nawrot, referring to the term "Rose" in the Lexicon of Symbols compiled by Marianne Oesterreicher-Mollwo, translated into Polish by Jerzy Prokopiuk.

Irena Nawrot was born in 1960 in Jarosław; degree in painting (1983) under Professor Marian Stelmasik from the Institute of Art Education at the University of Maria Curie-Skłodowska in Lublin; currently runs the Department of Knowledge at the Institute of Visual Arts at the Faculty of Fine Arts University; Professor of film art; 32 solo and 74 collective exhibitions; lives and works in Lublin; co-operates with Galeria Biała since 1985.
Od 2 października 2018 uruchomiony został nowy serwis galerii pod adresem: http://galeriabielska.pl/
_____________________________________________________________
Stara strona stanowi archiwum galerii: http://archiwum.galeriabielska.pl
Przekierowania z głównej strony

>>
Nasze profile:
__________________________

>>