Summer Siggi's Stage
23 June - 26 August 2012
One notable attraction of the "Fantom" exhibition is a three metre by three metre sculpture by Siggi Hofer called "This Is Your Stage Baby Best Siggi Hofer". The work doubles as an empty wooden stage that can be used by any viewer willing to make their own self-presentation, to become an actor/actress or a subject in the installation.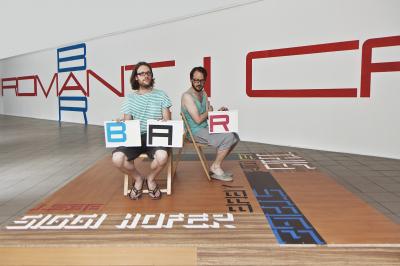 Dear Visitor!
Whoever you are and whatever you like, you are kindly welcome to perform on this stage which I have set up here in Galeria Bielska BWA. It offers an open space that belongs only to you for a while (within the gallery's opening hours, of course! from 10 am to 6 pm) Feel free to dance, act, speak, play, sing, freak out or just be on it.
Use the stage right now, or request the gallery to arrange a date for your future act and let it be published on the gallery's website (you can make your appointment by phone or e-mail). The gallery suggests evening performances every Thursday from 6 pm.
Use your social networks to invite your friend to your show.
Once you're done with your show, please scratch your name on the surface of the stage to make sure that you'll be a part of any further exhibitions on the stage.
Use your key for that.
Hop on now!
This is your stage, baby!
Best,
Siggi Hofer
The exhibition was launched by a performance by Sven Sachsalber.
To perform on Thursday evening contact with Galeria Bielska BWA by phone: 33 812 58 61 or by e-mail: info@galeriabielska.pl
Od 2 października 2018 uruchomiony został nowy serwis galerii pod adresem: http://galeriabielska.pl/
_____________________________________________________________
Stara strona stanowi archiwum galerii: http://archiwum.galeriabielska.pl
Przekierowania z głównej strony

>>
Nasze profile:
__________________________

>>