KASIA KMITA - MUST HAVE IT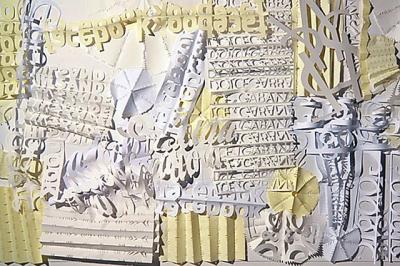 KASIA KMITA - MUST HAVE IT
Bielska Gallery BWA
Opening: 03/02, 6 pm.
04/02/2012 - 26/02/2012
3 Maja Street no.11, Bielsko-Biała
Curator: Joanna Stembalska (BWA Wrocław)

Must Have It is the title of the latest Kasia Kmita`s exhibition, Wrocław artist, whose creative activity remonstrates omnipresent codes of visual identification and by bold combination of global brands with laborious technique of traditional łowicka creativity it suggests the need of defining the new folksiness phenomena. Kmita is known for her works combining traditional, handmade cut-outs with popculture symbols, using motives from media world and publicity on the same basis as former folk artists immortalized motives from surrounding nature.
The latest Kmita`s project oscillates around the problem of esthetic changes which took place after 1989 in Poland. She comments irreverently on mental matrixes of contemporary times, desire to possess luxury goods, manic labeling of everyday life, paying homage to logotypes and icons of popculture.
____________________________________________________________

The cycle of works such as: "CHANNEL", "KONVERSE", "VICTORIA" and "SL" are made in the cut-out technique, stylized for large format glamorous photographs presenting imitations of object of desire , symbols of foreign brands which due to advertising and colorful magazines became fetishes of raising consumerism. In response to this need our country was flooded with a lot, less or more successful replicas. Authenticity was not a superior value. For just enriching Polish people the most important was possessing the object itself at least just a little bit similar to the original one. Today copy phenomena is slowly disappearing but simultaneously it is earning specific attraction of the symbol of capitalist changes.

It will also be possible to see two billboards on the exhibition: WHITE and BLACK, monochromatic cut-out handmade by Kmita in billboard format so called European (5,04 x 2,38 m) that denies the basic characteristic of large format publicity: multiple reproduction and printing. Billboards are made of delicate, hand cut fragments. Carefully made elements show traditional, stylized floral motives which intertwine with lacy composition of logotypes and advertising inscription creating contemporary urban flora.
Kmita`s works do not only emphasize the phenomena of new Polish folksiness. The usage of traditional medium- paper cut-out stresses their local and female aspect which may be both the act of humility and provocation.

Kasia Kmita was born in 1972 in Nowa Ruda, she has graduated from Wroclaw ASP where she obtained the diploma in painting. She has taken part in numerous individual and group exhibitions in the country and abroad among others in Berlin, Prague, Amsterdam, London, Budapest. Recently her works may have been seen displayed in "New Art from Poland and Beyond" in London and on the individual exhibition "Gift shop" in Warsaw Kordegard Gallery. She is a laureate of among others "Nagroda Konkursu im. Eugeniusza Gepperta", 1998 r., biennale "Rybie oko 4" in Słupsk and TVP "Łossskot" magazine award for the most interesting personage of culture in 2007. She is this year`s Minister of Culture and National Heritage scholarship holder. She lives and works in Wroclaw.

Cut-out workshop with Kasia Kmita
04/02/2012, 11.00 a.m, Bielska Gallery BWA
The artist is running workshop where one can learn basic rules to create cut-outs.
The number of people is limited: 20 places
Od 2 października 2018 uruchomiony został nowy serwis galerii pod adresem: http://galeriabielska.pl/
_____________________________________________________________
Stara strona stanowi archiwum galerii: http://archiwum.galeriabielska.pl
Przekierowania z głównej strony

>>
Nasze profile:
__________________________

>>